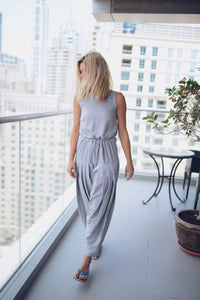 Pleated Strappy Oversized Jumpsuit with a Drawstring
Regular price Dhs. 563.00 Dhs. 99.00 Sale
OR
Customize product size
Enter your measurement (in inches) in the following fields
Product details
A smart pleated and strappy sleeveless jumpsuit that is cinched in at the waiste and pleats at the hips. Perfect to dress up or down.
Size and Fit
Sleeveless jumpsuit
Cinched in at the waist
Pleats at the hips
Colours available to order
Textured Light Grey
Plain Black
This product is made on order. Please see our sizing chart before you choose your size from the drop-down list.
You can also customize the size by selecting suitable values from the drop-down or send us an email at sales@styleyourarmoire.com with your size details for the perfect fit.